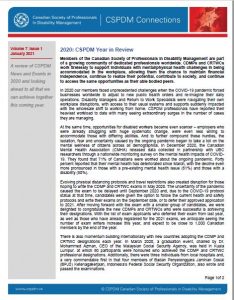 Members of the Canadian Society of Professionals in Disability Management are part of a growing community of dedicated professionals worldwide. CDMPs and CRTWCs work tirelessly to support individuals with mental/physical health challenges in being accommodated in the workplace, allowing them the chance to maintain financial independence, continue to realize their potential, contribute to society, and continue to access the same opportunities as their able bodied peers.
In 2020 our members faced unprecedented challenges when the COVID-19 pandemic forced businesses worldwide to adjust to new public health orders and re-imagine their daily operations. Disability Managers and Return to Work Specialists were navigating their own workplace disruptions, with access to their usual systems and supports suddenly impacted with the wholesale shift to working from home. CSPDM professionals have reported their heaviest workload to date with many seeing extraordinary surges in the number of cases they are managing.
Read the latest CSPDM Connections newsletter for a review of CSPDM news and events in 2020.