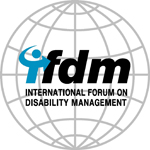 The Pacific Coast University for Workplace Health Sciences (PCU-WHS) is pleased to announce that the 2018
International Forum on Disability Management (IFDM) conference will receive sponsorship through the Government of Canada's Social Development Partnerships Program-Disability.
The Honourable Kirsty Duncan, Minister of Science and Minister of Sport and Persons with Disabilities said, "Canada is at its best and all of society benefits when everyone is included. By bringing together academics, professionals and disability stakeholders from all over the world to share their knowledge and generate valuable ideas, this conference will help ensure that Canadians with disabilities are able to fully participate in their workplaces and communities."
"We are very grateful for the significant support that the Government of Canada has provided, especially when considering recent reports that indicate 23 percent of all people living in poverty across Canada are persons with mental or physical health impairments, and in excess of 80 percent of impairments are acquired during a person's working life, and therefore effective and collaborative workplace efforts in job retention and return to work can have a significant impact on changing this narrative" said Wolfgang Zimmermann, President of PCU-WHS.
To view the full media release, please see attached.
As an additional update, please note that the deadline for the Call for Abstracts has been extended to April 2, 2018.
For further details on the Call for Abstracts, please visit the following webpage: https://www.ifdm2018.com/call-for-abstracts/
IFDM 2018 Secretariat
Email: info@ifdm2018.com
Web: www.ifdm2018.com