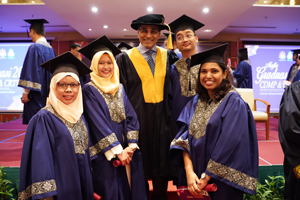 A graduation event was held in Kuala Lumpur, Malaysia in early March at which 80 participants were honoured who achieved the Certified Disability Management Professional (CDMP) and the Certified Return to Work Coordinator (CRTWC) professional designations for this year, and including 38 who were re-certified. SOCSO, the social security organization of Malaysia, now has 143 CDMP and CRTWC practitioners.
Additionally, this year three individuals from local hospitals wrote and passed the examinations and four members of Badan Penyelenggara Jaminan Sosial (BPJS) Ketenagakerjaan from Indonesia also wrote and passed the examinations.
A launch of the Malay language version of the Book on Disability Management Module also took place at the graduation ceremony. This book, published in collaboration with the Social Wellbeing Research Centre at the Universiti Malaya, will be a source of reference for many, especially employers, hospitals and other public agencies. It is one of SOCSO's initiatives to spearhead disability management by offering training and examinations to disability management practitioners from the Southeast Asian region in addition to those in Malaysia.
For further details and to view the graduation photos, please click on the following link to view the Communiqué. More Information